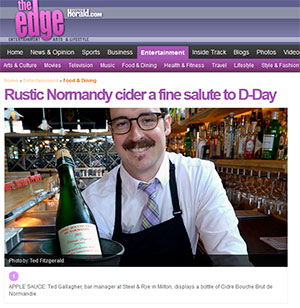 The Boston Herald  – The Edge has recently published an article on the cider cocktails made by Ted Gallagher from Steel & Rye in Milton, Massachusets. This article was written by Kerry Byrne, a true cider connoisseur.
Click to read the article…
In addition, Ted Gallagher shares two of his favorite Calvados cocktails with us:
'Lionheart' by Ted Gallagher :
1.5 oz. Dupont Fine Reserve
0.5 oz. Rittenhouse Rye
0.125 (barspoon) maple syrup
dash St. Elizabeth's Allspice Dram
dash Angostura Bitters
Build in mixing glass. Add ice, stir to integrate. Strain over large ice in chilled rocks glass. Express lemon oil over surface, garnish with peel or discard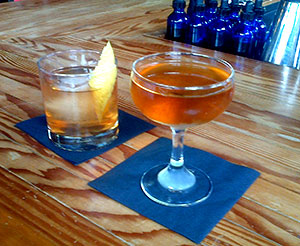 'Still Life' by Gjergj Hakani, Lead Bartender
0.75 oz. Dupont Fine Reserve
0.75 oz. Old Overholt Rye
0.75 oz. Salers Aperitif
0.5 oz. Cynar
0.25 Combier Liqueur d'Orange
pinch of salt
Build in mixing glass. Add ice, stir.
Strain into chilled coupe glass.
Express orange oil lightly over surface, discard.

STEEL & RYE – 95 Eliot Street – Lower Mills – Milton, MA 02186 – USA – (617) 690-2787