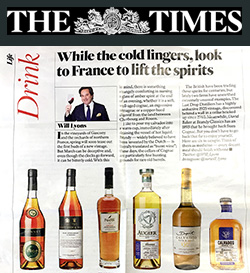 .
The Feb. 24, 2019 issue of Sunday Times Magazine had a feature titled 'While the cold lingers, look to France to lift the spirits'.
Will Lyons has included a Famille Dupont Calvados in his short selection of six brandies:
Dupont Calvados VSOP:
« One of my favourite holiday treats is to pour a shot of Calvados into a still-warm cup drained of coffee. This heady example from the Dupont family, the product of hand-harvested apples, is pale yet golden, rich on the nose and pleasantly biting on the finish. »
.