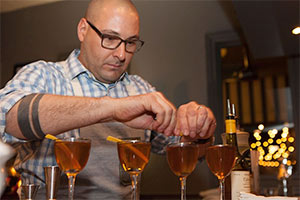 .
Mike Henderson, beverage director for Root Down, Linger and Ophelia's Electric Soapbox,  has won the regional semi-final of the Bartender of the Year event hosted in New Orleans… with a cocktail made with Calvados Dupont Vieille Reserve.
Read the article on Denver Westword website …
.
Here is his winning mix:
Improved Corpse Reviver No. 1:
1.5 ounces Domaine Dupont 'Vielle Reserve' Calvados
.75 ounce Dolin Sweet Vermouth
.75 ounce Domaine de Canton
2 dashes of Angostura Bitters
2 bar spoons of Big B's Organic Apple Cider Vinegar
Stir and serve in a Nick & Nora Glass with a lemon zest.