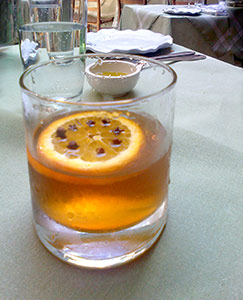 A Calvados Cocktail from the Palma Restaurant, New York City:
2 oz. fine calvados
1 oz. amaro dell' erborista
.5 oz cocchi vermouth
Old fashioned glass
Clove studded orange wheel as garnish.
The Palma restaurant is an organic italian restaurant in New York City which remains faithful to generations of family recipes and techniques.
Palma / D'Orazio Food Events
28 Cornelia St
New York, NY 10014, U.S.A.
Phone (212) 691-2223
www.palmanyc.com