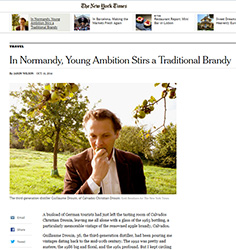 Jason Wilson of The New York Times has visited Normandy to meet the new generation of Calvados producers:
« In Normandy, Young Ambition Stirs a Traditional Brandy »
(extract) Fifty years ago, there were about 15,000 Calvados producers in Normandy. Most of these were apple farmers who distilled for personal consumption, much of it rough stuff that became known by the slang term calva — indeed, the sort of thing old men drank with their morning coffee. Now, only about 300 producers of Calvados remain, and only about 20 brands are known outside the region.
But a serious group of younger producers, who have banded together under the name Esprit Calvados, is bringing Calvados into the 21st century through innovation and experimentation, as well as by reclaiming traditional farming and distilling methods. Reaching up from the roots of the farmhouse distiller, the new-wave Esprit Calvados collective consists of some of the most highly regarded Calvados producers: Domaine Dupont, Calvados Christian Drouin, Calvados Roger Groult, Domaine Pierre Huet and Le Père Jules. Each distillery is run by a son, each in his 30s or 40s, who has taken over from his father in the past decade.
"We are a young generation making a product that's old-fashioned," I was told by Jean-Roger Groult, 32, master distiller at Calvados Roger Groult. "We're dusting off the image of Calvados." (…)