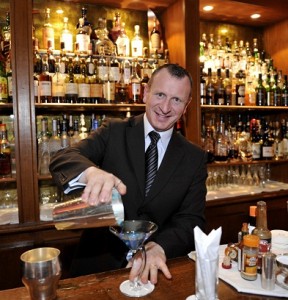 .
When Marc Jean, head-barman at the Hôtel Normandy Barrière in Deauville, created a new cocktail with Domaine Dupont Calvados a few years ago,  was he thinking it would soon be taught to every barman in France ?
.
Indeed, due to its popularity, the MOJIDOS has just been added to the 'Carnet de Cocktails Contemporains' (= 'Today's cocktail handbook'), an official list of the 60 cocktails that every barman-apprentice must know by heart.
Needless to say  that the MOJIDOS is here to stay !
.
The MOJIDOS by Marc Jean:
10 leaves of fresh mint
1 lime
1 cl (.33 oz) cane sugar syrup
1 teaspoon of brown sugar
4 cl (1.33 oz) Calvados
7 cl (2.33 oz) Ginger Ale
In a tumbler, place mint, lime cut into 4, sugar syrup and brown sugar. Crush it. Fill up with ice cubes, add Calvados and ginger ale. Stir. Finish with a spray of Calvados (Calvados Spray). Garnish with fresh mint.