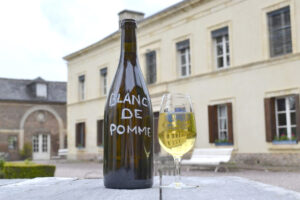 « Calvados, pommeau, cider … Faced with the health crisis and thanks to the dynamism of its players, the world of Normandy cider products has not lost its colors or its flavors. Innovation, ecology, mixology … an overview of a sector in full resistance.  »
The magazine Barmag.fr, « the magazine of trends in drinks and bar life », just had a feature article on the innovations in the apple products from Normandy: « A wind of modernity on the side of Calvados ».
The article presents some of the Domaine Dupont  innovative products :
the Calvados Cask Finish Islay Whiskey, the Unreduced 50-year-old Calvados ("a jewel full of flavors") and the brand new Blanc de Pomme, a monovarietal still cider (photo).
Read the article online… (in french)