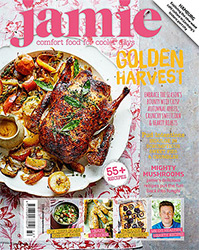 The September/October 2016 issue of the Jamie Oliver magazine asks:
« How d'you like them apples? Andy Harris visits Normandy, where the orchard harvest is in full swing, and unearths some deliciously sustaining rustic recipes using the region's apples and calvados – including the rib-sticking honey-roasted duck with apples and baby onions that graces the issue's cover. »
The article displays a photo of a Domaine Dupont calvados and lists the domain as a place to visit :
« Stunning calvados and cider, produced in small quantities through timeless methods ».