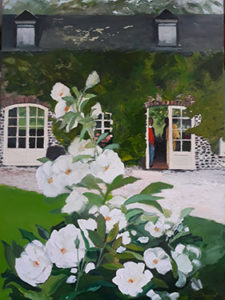 Presence, an artist's view of Domaine Dupont shop entrance, is a new painting by Nathalie de Chaumont.
Read more…
.
The artist is currently exhibiting at the Casino de Cabourg, from February 4 to March 3, 2019 in the main lobby. Nathalie de Chaumont will be present from Friday, February 15 to Sunday, March 3, to present the theme of the « Sea Day – Sea of Night » serie and also to exchange with visitors.
Visit Nathalie de Chaumont website…
.
.